by Sheral Reddy, Associate Director at GECA Chartered Accountants. If you need help with tax advice including end of financial year preparation, then Sheral and the GECA team can help.
XERO TIPS AND TRICKS
What to do if Customer Overpays an Invoice
When a customer overpays an invoice or pays you more than the amount invoiced, then the overpayment needs to be reflected in Xero.
The example we are using is where the invoice was for $400 and customer paid $450.  The $50 needs to be treated as an overpayment in Xero.
Below is a step by step guide as to how you can reflect the overpayment in Xero:
Go to your Dashboard in Xero, into the Reconcile tab of your bank account. Find the transaction that needs to be matched against the customer and select the 'Match' Tab.

Once you select, the 'Match' tab, you should be able to search for the invoice the payment relates to by customer name, invoice number or by invoice amount. Once search field is entered, click on the Go button.
The search results will show you a list of unpaid invoices which can be sorted by date, name of the customer, invoice number or amount. Select the customer invoice you would like to reconcile and match the invoice that is being fully paid.  Which is the $400 in this example.Then click on the tab 'New Transaction' drop down option which will give you the options to select 'Receive Money' or 'Transfer Money'.  Select 'Receive Money'.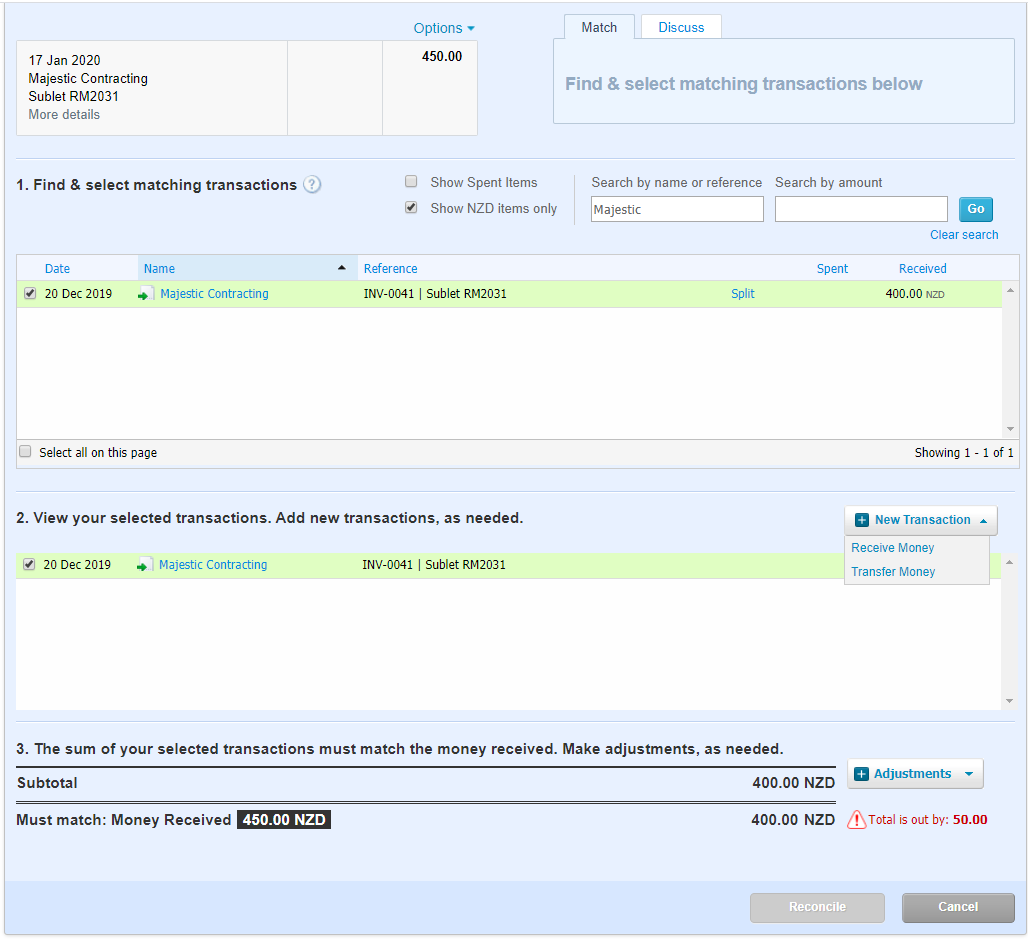 Once you click on 'Receive Money'. A new window will open as per below.  Please ensure you select the drop-down tab for Received as and select the 'Overpayment' option.Things to check before clicking on the save transaction tab, is the name of the customer name under 'From'.  This ensures you don't double up on the contact and the customer name is as per your contacts list.  The amount is the overpayment amount of $50 as per this example.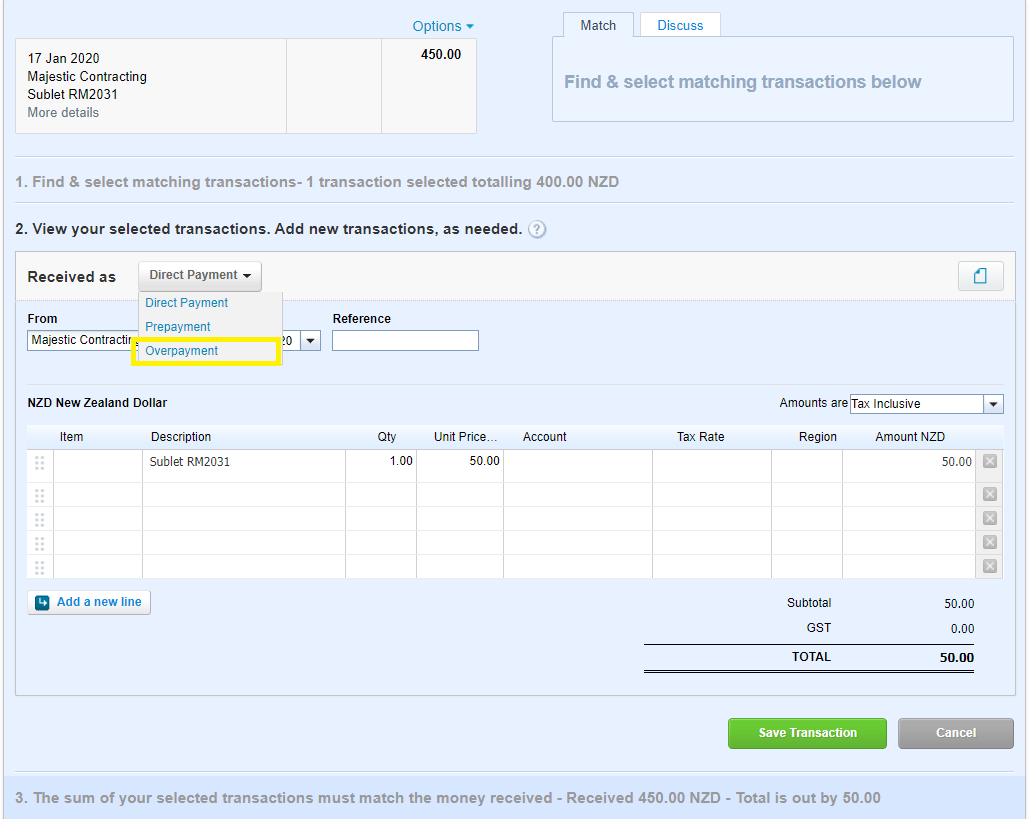 The account will be accounts receivable and will pop up automatically and no need to change the account code. Click 'Save Transaction'.
Then click 'Reconcile' to complete reconciliation.
The overpayment will be shown under the client balances in Accounts Receivable as a Credit.

You can send statements to the customer if required. By selecting the Business Tab and then select 'Invoices' option. Then selecting the 'Send Statements' tab and following the steps from there.


You can also send out statements to clients by using the search function under Contacts.

Search for your customer and select their name.

Click Send statements under Options tab.
Below is an example of the customer statement showing the overpayment. You can adjust date range if required. The statements can be emailed, or downloaded and printed in PDF format if posting the statement to the customer.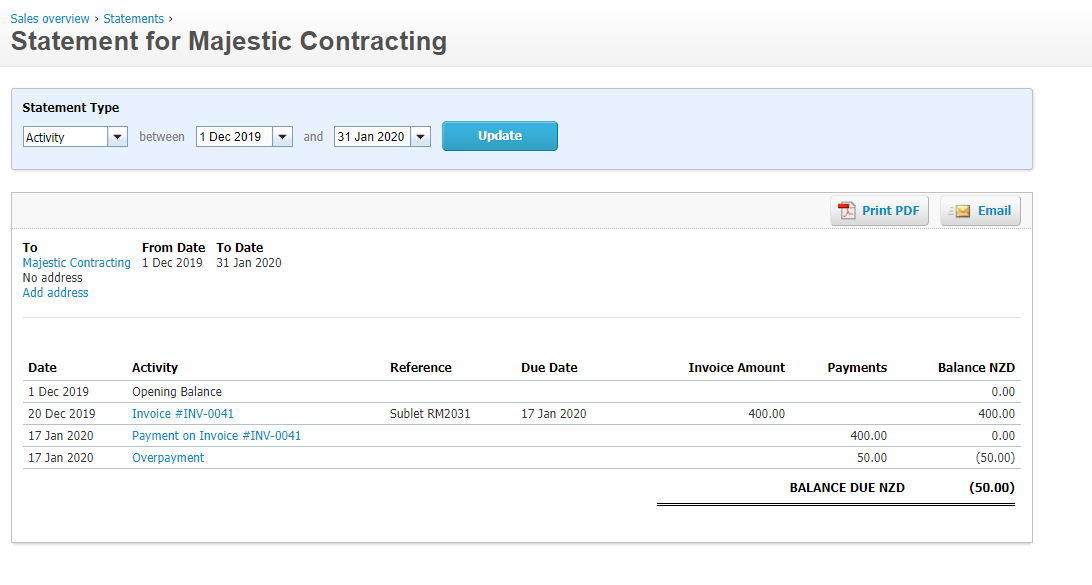 If you want to know more on how to do your daily bookkeeping feel free to get in touch with us on 0800 758 766.